Hair Loss Treatment
For some types of hair loss, hair may resume growth without any treatment. In other situations, treatments may help promote hair growth or hide hair loss.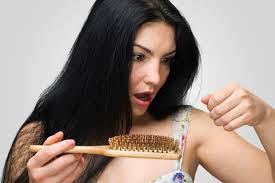 Hair loss
Medication
If your hair loss is caused by an underlying disease, treatment for that disease will be necessary. This may include drugs to reduce inflammation and suppress your immune system, such as prednisone.
Medications approved by the Food and Drug Administration (FDA) to treat hair loss include:
Minoxidil (Rogaine). Minoxidil is an over-the-counter liquid or foam that you rub into your scalp twice daily to grow hair and to prevent further loss. Some people experience some hair regrowth or a slower rate of hair loss or both. It may take 12 weeks for new hair to start growing. Minoxidil is available in a 2 percent solution and in a 5 percent solution. Side effects can include scalp irritation and occasionally unwanted hair growth on the adjacent skin of the forehead or face.
Finasteride (Propecia). This prescription medication to treat male-pattern baldness is taken daily in pill form. Many men taking finasteride experience a slowing of hair loss, and some may show some new hair growth. Rare side effects of finasteride include diminished sex drive and sexual function. The FDA has also warned that in some men there's an increased risk, though low, of getting a fast-growing type of prostate cancer. Finasteride should be avoided by women of childbearing age.
Surgery
In the most common type of permanent hair loss, only the top of the head is affected. Surgical procedures can make the most of the hair you have left.
Hair transplants. This type of procedure removes tiny plugs of skin, each containing a few hairs, from the back or sides of your scalp. The plugs are then implanted into the bald sections of your scalp. Several transplant sessions may be needed, as hereditary hair loss progresses with time.
Scalp reduction. This procedure surgically removes some of the bald skin on your head. After hairless scalp is removed, the space is closed with hair-covered scalp. Doctors can also fold hair-bearing skin over an area of bald skin in a scalp reduction technique called a flap.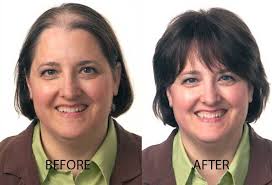 Wigs and hairpieces
If you would like an alternative to medical treatment for your baldness or if you don't respond to treatment, you may want to consider wearing a wig or hairpiece. They can be used to cover either permanent or temporary hair loss. Quality, natural-looking wigs and hairpieces are available.